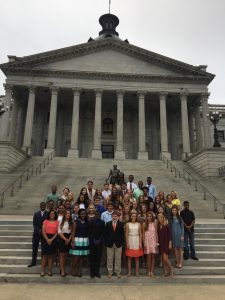 Forty-six high school students representing 15 electric cooperatives and seven chaperones headed home last week after spending three days in the Columbia area on the first statewide Cooperative Youth Summit, which included a much longer visit with the governor than had been planned.
The students, mostly rising seniors with a couple of rising juniors and one sophomore, got an introduction to cooperatives and the cooperative business model, a visit to Tri-County Electric's solar energy farm in St. Matthews, a visit to the Statehouse and an explanation of lobbying by ECSC government relations staff. They met a judge and a legislator, toured the Richland County Landfill Gas-to-Energy facility, went to Riverbanks Zoo and had a catered dinner at the historic Robert Mills House.
The students began their visits with elected officials by hearing from Richland County Circuit Court Judge Robert Hood, who explained his job, how judges are elected and then answered student questions about his career and his cases.
State Rep. James Smith (Richland-District 2) discussed his service in the state House. Smith related his journey from rock-and-roll band member to lawyer, public servant and soldier to the choices the students will soon make. Freedom is only a generation away from extinction unless you are willing to protect it, he said.
The highlight of the day for the students came when what was scheduled to be a quick chat with Gov. Henry McMaster turned into an impromptu personal visit with all 46 of the attendees. After sharing words of encouragement and answering questions, McMaster gave the students a tour of his personal office and conference room and spent more than 45 minutes taking pictures and talking with each of the attendees.
"I've never seen anything like it," said John Frick, ECSC vice president for government relations. "I'm sure it drove his security team crazy, but the young people were so excited to spend time with him and to see the Governor's Office. I'd never done that myself, and I know it was a treat for the students."
The summit ended at Fairfield Electric in Blythewood where the students heard from Paul Pardon and Chris Teems of Horry Electric on the lengths some criminals go to steal electricity.
The students operated their own Soda Pop Co-op during the trip. At the end, they were surprised to learn that they had earned $3 per person as their capital credit refund, according to Van O'Cain and Chase Toler, who coordinated the summit for the statewide association.