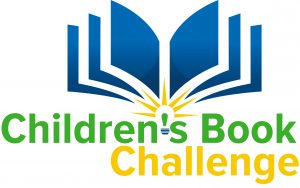 REGISTRATION IS NOW CLOSED FOR THIS YEAR'S CHILDREN'S BOOK CHALLENGE. THANK YOU TO ALL WHO'VE ENTERED!
How to Compete
Students will research and write a book with the theme of Co-ops Power the Future.
What is an electric co-op?
What services have they traditionally offered? What is new with co-ops and electricity in the future?
Each registered team (1-4 students) will create an electronic book using the book creator program called StoryJumper. This program will allow students to write and illustrate their story. The following steps detail how to participate in this competition.
Register for the challenge by Friday, December 4, 2020.
Entrants will receive a confirmation email with contact information for their local cooperatives office. This contact person will receive the electronic submissions of books.
Teachers should sign up for a free account at StoryJumper and become familiar with the platform.
a. StoryJumper is a free platform for teachers and students to write and illustrate books. There is a useful teachers guide and video tutorials to help you get started. Students are encouraged to collaborate with their classmates, even remotely, to plan their book to include the following: characters, challenges, motivation, setting, obstacles, setting, climax, and closing.
b. Teacher lesson plans are provided.
c. Students can record their stories in their own voices.
d. StoryJumper automatically saves student work.
e. Books can be shared electronically or printed (paperback on hardcover).
All electronic books must be submitted to the local co-op office by Friday, January 29, 2021. Books are shared via StoryJumper to the local cooperative representative.
Each co-op will select its local winner by Friday, February 26, 2021.
All local winners are automatically entered in the state-wide book contest.
One state-wide winner will be announced on Friday, April 9, 2021.
Why a Children's Book?
For more than 75 years, the electric cooperatives in South Carolina have been transforming lives, families and communities with electricity and community support. We want to celebrate that outstanding history with an opportunity for young people to learn what cooperatives are, how they started and how electricity impacts our lives. The electric cooperatives in South Carolina value education and realize students are the problem solvers of the future. Becoming an energy-literate society is essential to overcoming our future energy challenges. Writing a children's book on new technologies in energy allows students to widen their knowledge of our state's energy possibilities.
Additional Resources
Writing Process
For more information on the writing process, click here.
Questions to Consider
For questions to consider during the writing process, click here.
What Is Energy?
To learn more about energy, click here.
2020 SC Children's Book Challenge Winner
When Wind Meets Windmill, by Carolyn Zheng, was selected as the winner of the 2020 Children's Book Challenge. Her winning entry can be viewed here:

---
2019 SC Children's Book Challenge Winner
Myah's Energy Enlightment, by Myah McMillan, was selected as the winner of the 2019 Children's Book Challenge. Her winning entry can be viewed here: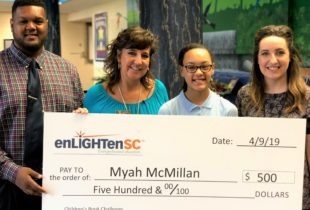 ---
2018 SC Children's Book Challenge Winner
Lightbulb, by Zephan Hunter, was selected as the winner of the 2018 Children's Book Challenge.
His winning entry can be viewed here: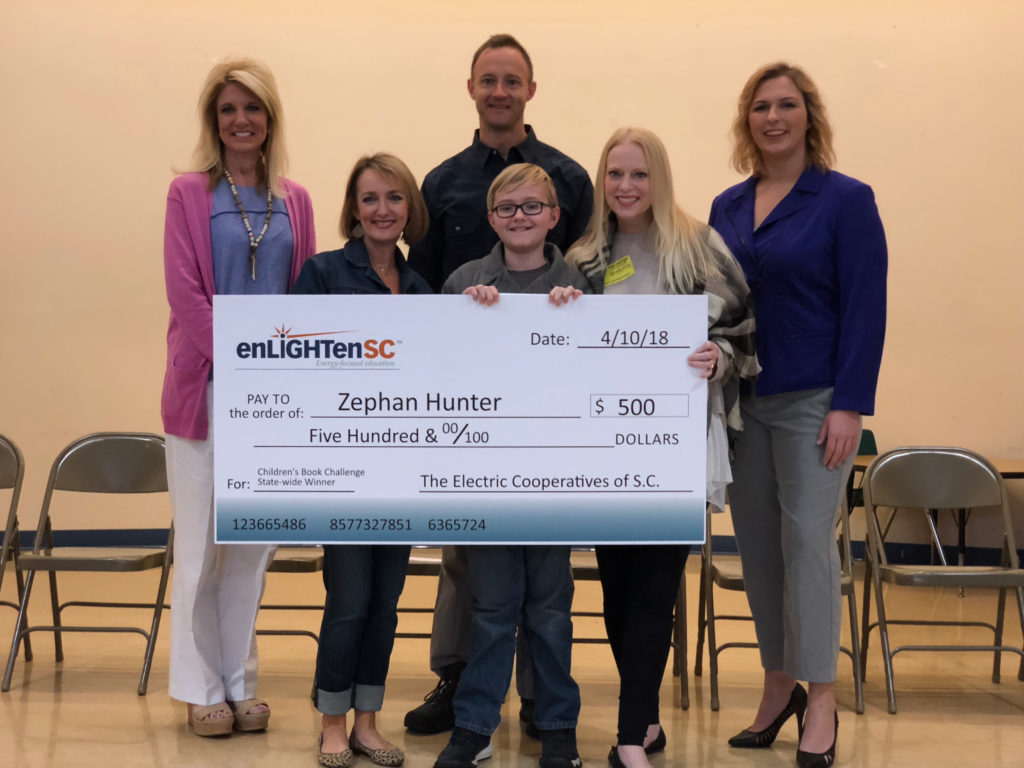 History of Electricity Generation in South Carolina
Much of South Carolina was living without electricity in the 1920s. This video is a shorter version of how and why Santee Cooper was created.
Pushing Back the Darkness is the full 27-minute program that discusses the state of SC prior to electrification and the start of Santee Cooper.
Electric Cooperatives Remember
 Santee Electric Celebrates 75 Years
Santee Electric Cooperative interviewed members and employees to celebrate their 75th anniversary in 2015. Discussion includes life before and after electrification.
 The First Refrigerators
What was life like before refrigerators? Without electricity, refrigerators were inaccessible to rural South Carolinians. Ms. Helen Martin describes getting electricity and her first refrigerator.