This course is currently full.  If you need more information or would like to be added to the waiting list, please contact Adena Ohanesian at adena.ohanesian@ecsc.org.
Energy in the 21st Century
Transitions, Disruptions and A Move to Electrify
Since 2013, South Carolina's electric cooperatives have sponsored a STEM-focused accredited graduate-level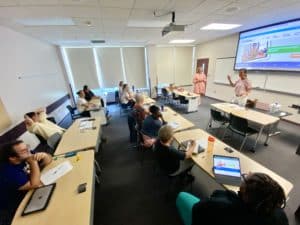 course—free of charge to the state's K-12 STEAM) teachers.  Due to the summer course's success and positive feedback we have received from participants, the cooperatives have developed a second graduate course offered to teachers this winter.
Through approximately eight weeks of both in-person (2 Saturdays) and virtual sessions (synchronous and asynchronous), participants will learn about the history, economics, science, and modernization of our global economy and how it relates to the rapidly shifting energy sector.  By looking at 21st century electrification, the course will leverage the expertise of guest lecturers from the areas of business and industry, public policy, and environmental impact. It will include a range of modalities and course activities to help explain current and future energy markets. Students will also learn about the methods in which our energy supply and economy may change to adapt to the future energy landscape.
Participants who successfully complete the course receive 3 graduate credit hours from the University of South Carolina.
The course accommodates a maximum of 25 students.   If accepted, a $100 registration fee (refundable after completion of the course) is required.
Participants will be notified of their acceptance status by email.
All forms due to the University of South Carolina must be submitted before acceptance.
Learning Outcomes:
At the end of this course students will be able to:
Understand the role of technology transitions on economic activity throughout U.S. history.
Identify major energy technology changes and related energy transitions throughout world history over the past 50+ years.
Examine the current trends and patterns in energy markets, energy investments, technology innovations, and related policy changes.
Analyze the current U.S. and state energy policy landscape and describe the future landscape.
Apply economic and policy tools and decision-making concepts to current and future energy and economic transitions.