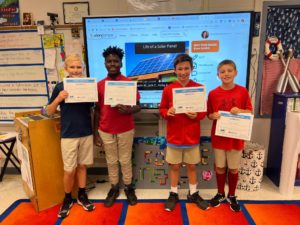 Four students from Hilton Head Island Elementary School for the Creative Arts are runners-up in the statewide Children's Book Challenge sponsored by EnlightenSC.
Austin Wiedemann, Samere "Isaiah" Tyson, Jack Cerrati and Kolby Anthony each share in a $300 prize from the state's electric cooperatives.
The competition challenges fourth and fifth grade students to write and illustrate stories that focus on cooperatives, sustainability and the impact of electricity. Local winners' books are then entered into a statewide competition for a chance to win $500 and have their book published and distributed to elementary schools throughout the state. Their story, Life of a Solar Panel, was awarded a first-ever, second place prize in the EnLIGHTen SC statewide competition.
Austin, Isaiah, Jack and Kolby were recognized, today, along with their teachers, Jennifer Friend-Kerr and Alex Holland, during a presentation in their classroom. Missy Santorum, public relations manager for Palmetto Electric Cooperative, and Van O'Cain, director of public and media relations for the Electric Cooperatives of South Carolina, presented the winning team with certificates, gift cards and cash prizes.
By inspiring students to learn more about energy in our state, South Carolina's electric co-ops hope to spark a passion for critical thinking in the minds of tomorrow's leaders. Congratulations to these talented young men!