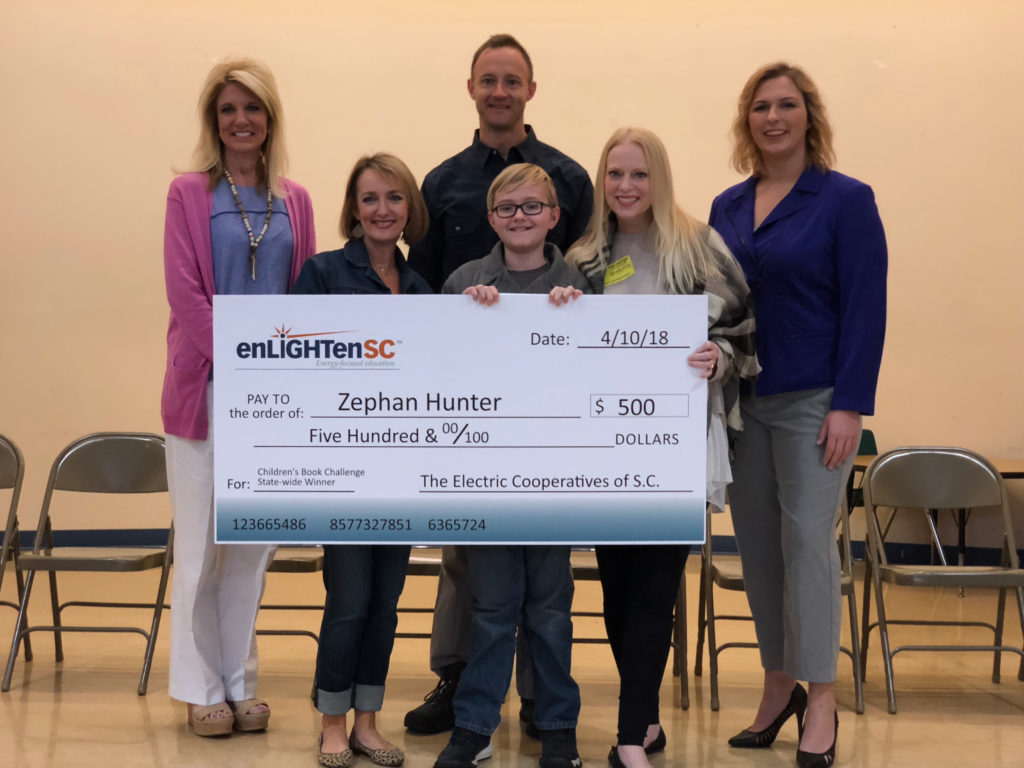 Lightbulb, by Zephan Hunter, was selected as the winner of the 2018 Children's Book Challenge, sponsored by EnlightenSC—an educational initiative of The Electric Cooperatives of South Carolina. The competition challenges fifth-grade students to write and illustrate stories that focus on the impact of electricity in his or her life, communities and the history of our state.
Hunter was surprised during an assembly Tuesday morning at East End Elementary, where he is a 5th grade student. He received $500 in celebration of his accomplishment.
"Zephan demonstrated creativity and an understanding of the role of electrification in South Carolina through his text and illustrations." said Courtney Epting, a representative of EnlightenSC, "It was a pleasure reading his book and celebrating his accomplishments in front of his peers."
Hunter is the first recipient of the award and his book will be published and distributed to elementary schools throughout the state. His book was selected as the regional winner in February after Blue Ridge Electric employees reviewed over 50 submissions. Hunter's parents are members of Blue Ridge Electric Cooperative, Inc.
South Carolina's electric cooperatives have been committed to powering rural communities since 1938. This concern for communities, and the future of our youth, has carried forward to today. By inspiring students to learn about the history of electricity in our state, S.C.'s electric co-ops hope to spark a passion for critical thinking in the minds of tomorrow's energy leaders.